Celluon Magic Cube - World's only virtual projection keyboard.
Posted by

PC Hardtech
at 10:37:00 PM
0 comments

Sixth Sense technology - A new boon for the IT field.
Posted by

PC Hardtech
at 10:48:00 PM
0 comments

Irvine's
Gateway Inc
.
is no design star in the computer world. Few companies are. But its latest computer, simply called "
One
," is an all-in-one beauty that has folks
talking
it up on message boards. No wonder:
At a
Digital Life
press conference in New York this morning, the Irvine company will unveil
One
, which has been in the works for months.
Gateway has long offered an all-in-one computer,
which means all of the computer parts (hard drive, processor, memory, etc…) are fused to the back of the screen
. The Gateway Profiles have been out for several years, with minimal success. Pictured on right is the
Gateway Profile 6
and the
Profile 4
.
Gateway's Glenn Jystad answered a few questions ahead of time. Mainly, what's so special about this new computer?
Jystad, Gateway's senior manager in the consumer products division for consumer desktops, points to the power cable as a key difference from everything else out there:
The power pack includes ports typically found in the back of a computer. Trying to keep the clean aesthetic of all-in-ones is nearly impossible if you want the computer to function. Where can you hide those ugly cables connecting to a printer, external hard drive and the Internet?
Gateway's answer is to put it all down below the desk. The innovative power pack is called the "Smart Power Module." It includes an Ethernet port, USB ports and a printer port.
It's about looking good not only in the store, but at home, Jystad said.
"None of those cables have to come up to the table top but you still get all the connections of a desktop," he said. "This is the smart place to put permanent connections. Power is permanent. So is wired Ethernet."
Design was done in Irvine and overseas at Gateway's manufacturing plants. It wasn't easy to development this new sort of input/output model.
"The guys in Irvine were really critical in making sure it turned out the way it needed to. Several of them in the last six months spent a chunk of time overseas working on this," he said.
Other key details about the One:
19-inch wide screen
NXT SoundVu speakers "hidden" in the screen
Seven USB ports, one 1394 port, two memory slots, two desktop hard drive bays and more. **Clarification: **Most of these are built into the computer, so users can still plug in an iPod or other non-permanent gadget.
No integrated web cam but an optional one is available to mount on the machine. Gateway didn't build one in because the screen isn't adjustable to get the perfect web cam shot.
Three configurations:
The $1299.99 configuration includes an Intel Core 2 Duo T5250 dual-core processor; Intel Graphics Media Accelerator X3100; 320GB SATA II hard drive and a 1.3 megapixel webcam.
The $1,799.99 configuration includes an Intel Core 2 Duo T7250 dual-core processor; ATI Mobility Radeon HD 2600 XT graphics; 500GB SATA II hard drive and a 1.3 megapixel webcam and an analog/digital TV tuner.
The Gateway One model available direct from Gateway includes an Intel Core 2 Duo T5250 dual-core processor; ATI Mobility Radeon HD 2600 XT graphics; 400GB Serial ATA II hard drive; and a 1.3 megapixel webcam for $1,499.99. **Also includes 2 GBs of RAM. More details HERE.
Pre-orders for the $1,500 model start today at Gateway's site, although shipping date for online orders is Nov. 21. The other two models will be exclusively sold by Best Buy in late October or early November.
Posted by

PC Hardtech
at 9:13:00 AM
0 comments

When someone said the future of laptops would come with two screens, it turns out there might have been more to that statement that mere far fetchery. The idea of kicking a keyboard to the curb in favour of a dual screen laptop won't be beneficial to everyone - but serious multi-taskers will have a field day with a machine like this.
In a similar style to the iPhone,
Samsung Pixon
and a multitude of other touchscreen mobiles, there's a virtual keyboard on board, possessing the ability to be switched to either landscape or portrait mode depending on the task at hand. According to Asus, having a double whammy of screens is pretty versatile, giving it a kind of functionality on par with a tablet - minus the screen swivelling and added bulk.
So, it would seem Asus is determined to redefine the laptop as we know it and become notorious for something other than the creator of the infamous
Eee PC
. However, it's only made it to the concept stages so far, but if Asus has its way it'll be production bound as soon as possible.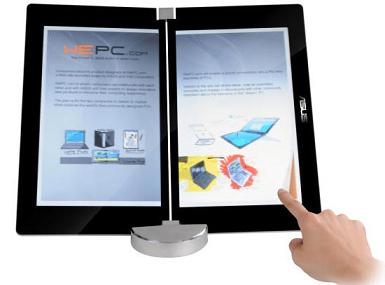 Posted by

PC Hardtech
at 9:08:00 AM
0 comments